Adrian Duncan and Sue Rainsford in Twitter conversation
On Tuesday, 24th of March, Adrian Duncan and Sue Rainsford had a Twitter conversation about Adrian's new book, A Sabbatical in Leipzig as part of our virtual #SabbaticalTour.
This event was in association with Dubray Books, who are offering 10% off A Sabbatical in Leipzig with the code 'leipzig' until Friday 27th March. Sue Rainsford's Follow Me to Ground is also for sale through Dubray Books.
The full chat can be found at this
link
, and we have also transcribed the interview below. We hope you enjoy!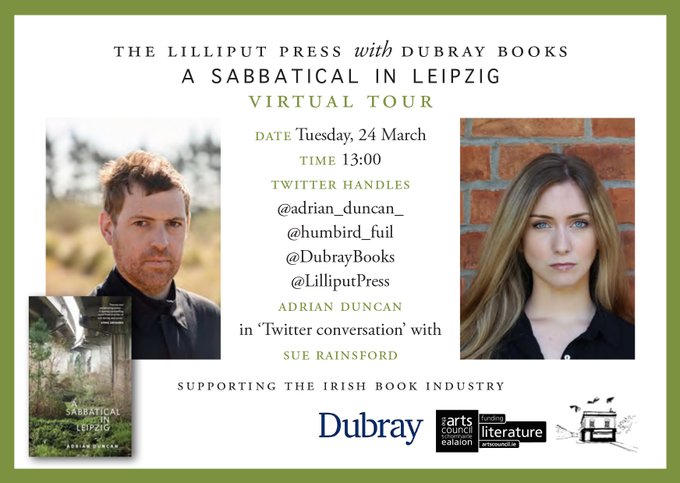 Lilliput Press (@LilliputPress) Welcome to Adrian Duncan @adrian_duncan_in conversation with Sue Rainsford (@humbird_fuil) ! Follow along as they chat about A Sabbatical in Leipzig.
Sue Rainsford Hi @adrian_duncan_ —great to be talking about your beautiful book under these very surreal circumstances!
Adrian Duncan I know! Very weird. I spent the last few seconds wondering what I should do!?
Alas.
Hello!
Sue Rainsford I know, usually we'd have lots of pleasantries and waving around of the actual book to start.
Sue Rainsford But! To begin: we're immersed in Michael's (the narrator's) inner life throughout, and he can visualise with a hyper-intense precision and clarity. Was it difficult to supply so much detail and keep the prose poetic and rhythmic, rather than mechanical and tedious?
Adrian Duncan I think this has a lot to do with 'lived experience' and research. I find, when I am writing about engineering I can draw a good deal from my previous career as an engineer, so these things can flow more easily when I write.
Sue Rainsford This sort of leads into another question I have…
Our sense of Michael comes out of how he observes the world, rather than anything he tells us directly. Were you ever drawn to other examples where a person's profession so thoroughly permeates perception and human encounter, or is it specific to your background as an engineer?
Adrian Duncan I think training as an artist and writing for a few years as an art critic also comes into this. You will know yourself too, when writing a review about an artwork there is a type of looking (and doubt) that goes beyond the surface. So art criticism is definitely another …
Adrian Duncan… dicipline that influences the writing.
Also, it is important when relaying this detail in the novel that the writer has to assume that the reader doesn't really care — this affects the tone I think and i like to think of it in this way .
Sue Rainsford Yes, a kind of looking that brings you almost too close to an object or system of objects for a prolonged period, and that is ultimately temporary and for a very particular audience. What I love about Michael as a narrator is that he never switches this kind of looking 'off'.
Sue Rainsford I especially love the moments where he connects people—his wife, his uncle—to inanimate materials and structures. There's a clinical, forensic quality to these sentences that might feel unhinged in another character or context. Was this effect at all intentional?
Adrian Duncan What was important for me in writing Michael's voice was that he would remain somehow pedantic even when the object led to an important figure in his life and I realised as this went on that this 'neutrality' in his 'voice' would allow the reader closer to his feelings and …
… and from this the reader could in simple sense maybe discern what was most important to him around and behind an object – esp one that led to the person in question. Porcelain cup – Catherine; photograph – Allen, etc.
Sue Rainsford I think this is also one of the reasons the book carries such weighty, melancholy resonance; the level of material attention to objects and to people—all of them finite and ultimately permeable…
Changing tack a little: Something this novel has in common with your debut, Love Notes…, is that a couple immerses themselves in a new city, and the place weaves itself into their relationship. What's the appeal of this theme for you? Is it one you'll revisit again?
Adrian Duncan I think in Love Notes the couple are seeking to leave careers behind and to seek out some other way of living that gives meaning (and a new city helps in this regard)
Whereas in ASIL the couple enjoy their disciplines and enjoy the depths to which their disciplines take them …
… I think with cold-war era Leipzig the idea of staying within your discipline seemed more appropriate.
It is something that fascinates me the question of connection to your work. Some people I think have great connection and enjoy their work, others have little connection…
… and I know how both of those situations feel and how they affect you as a person and also how difficult it is to change direction in ones working life.
Sue Rainsford I like that cold-war connection, I hadn't clocked it before; your socio-political environment playing a role where professions are concerned, trickling into how you move through the world, the options that are available to you on a public and domestic level…
…Okay, one last question that might be a bit overly philosophical but that I hope you'll indulge…
…Michael listens to two versions of Schubert's Trout Quintet simultaneously, and it seems there's a midway point between the two he's reaching for. This felt like a counterpoint to the kind of knowledge prized by engineering, where one version is the "most correct"?…
…Something along the lines of 'precision versus interpretation'? Or 'concrete versus porous'?
Adrian Duncan That's a really nice way of putting it. I think in the quintet version Michael can discern the 5 musical parts of the music and in the experimental symphony the music comes in rushes that he is unable to pick apart or understand.
I think this stems back to ideas in Love Notes …
…where the difference between static and stillness is looked at but here it is in relation to movement, complex and difficult-to-understand movement
The quintet is 1 version and the symphony another + I think Michael is curious to put complication + complexity together at once
Adrian Duncan Why would he do this?
And why in this way?
I really don't know. I think it might also be an interest of mine that perhaps I was seeking in writing the text, but of course did not find.
Sue Rainsford And those 'rushes' are so at odds with his prisms of perception, it's almost as though—in those sections—the reader has access to something, a particular emotional sensibility or aesthetic texture, he hasn't grasped yet…
…And "perhaps I was seeking in writing the text, but of course did not find"—were more relatable words ever spoken?
Adrian Duncan I think that is fair to say for sure. Which I think most people can relate to fairly easily
Well, thanks so much, Sue.
It was completely weird but totally wonderful doing this.
I appreciate your time and engagement with ASIL.
C u soon
stay safe
Ad
Sue Rainsford Completely weird and totally wonderful indeed, hopefully to be recreated in a non-virtual format someday soon!
Sue Rainsford And some photographic evidence that I am not in my pyjamas.
Adrian Duncan Ha!
Keep well!
Ad